In this episode, we welcome the featured guests of Episode 2 of SAPIENS Season 4, both co-founders of the Society of Black Archaeologists: Justin Dunnavant, Assistant Professor of Anthropology at UCLA, and Ayana Flewellen, Assistant Professor in the Department of Anthropology, University of California, Riverside. They are joined by Gabrielle Miller, a PhD student studying African Diaspora Archaeology at the University of Tulsa.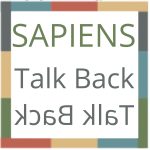 SAPIENS Talk Back was developed in collaboration with the Indigenous Archaeology Collective and the Society of Black Archaeologists, with special help from Dr. Sara Gonzalez, Dr. Justin Dunnavant, Dr. Ora Marek-Martinez, and Dr. Ayana Flewellen. Special thanks also to Dr. Chip Colwell and the production team at SAPIENS, Dr. Danilyn Rutherford at the Wenner-Gren Foundation for Anthropological Research, and House of Pod.
This episode was made possible by financial support from the Scripps Center for Marine Archaeology at the University of California, San Diego. Our panelists for this episode are Jordan Griffin and Loren Clark from the University of California, San Diego. Our hosts are Hirsch Postdoctoral Associate Maia Dedrick and Ayesha Matthan from the Cornell Institute of Archaeology and Material Studies. The episode was engineered by Anna Whittemore, a Ph.D. student in Anthropology at Cornell University.
RadioCIAMS is a member of the American Anthropological Association's podcast library. Our theme music was composed by Charlotte Mandy and performed by Maia Dedrick and Russell Dedrick. This episode was produced at Cornell University by Adam T. Smith, with Rebecca Gerdes as our production assistant.
Look for episode 3 of the Sapiens podcast next week. And then check back here a week later for another episode of SAPIENS Talk Back.