In this episode, we welcome the featured guests of Episode 3 of SAPIENS Season 4: Kisha Supernant, Associate Professor in the Department of Anthropology at the University of Alberta and Director of the Institute of Prairie and Indigenous Archaeology, and Lenora McQueen, an activist who has worked tirelessly to preserve the Shockoe Hill African Burying Ground in Richmond.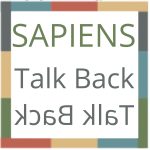 SAPIENS Talk Back was developed in collaboration with the Indigenous Archaeology Collective and the Society of Black Archaeologists, with special help from Dr. Sara Gonzalez, Dr. Justin Dunnavant, Dr. Ora Marek-Martinez, and Dr. Ayana Flewellen. Special thanks also to Dr. Chip Colwell and the production team at SAPIENS, Dr. Danilyn Rutherford at the Wenner-Gren Foundation for Anthropological Research, and House of Pod.
This episode was made possible by financial support of the University of Michigan Museum of Anthropological Archaeology. We want to thank our panelists for leading our conversation today: Elspeth Geiger (University of Michigan), Mariela Declet Pérez (University of California, San Diego), and Dan Plekhov (Brown University). This episode was hosted by CIAMS graduate students Rafael Cruz Gil and Carol Anne Barsody, and the sound engineer was Alex Symons. 
RadioCIAMS is a member of the American Anthropological Association's podcast library. Our theme music was composed by Charlotte Mandy and performed by Maia Dedrick and Russell Dedrick. This episode was produced at Cornell University by Adam T. Smith, with Rebecca Gerdes as our production assistant.
Look for episode 4 of the Sapiens podcast next week. And then check back here a week later for another episode of SAPIENS Talk Back.